Tuition, Fees, and Expenses
At the Pennsylvania Institute of Technology, we are committed to offering not only an outstanding education but an affordable one. As part of our mission, we offer low tuition, enabling our students to graduate and be employed with minimal college debt.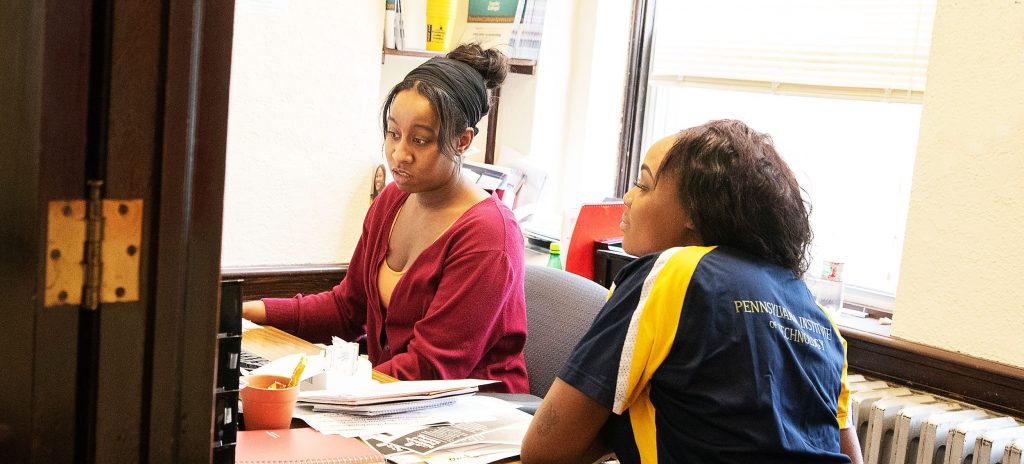 Tuition
Tuition is $485 per credit hour.*
A full-time student is defined as one who is enrolled in the P.I.T. programs for 9 credits or more per term. Students who register in the programs for more than 12 credits must have the Dean or Associate Dean of Academic Affairs approve the request.
Part-time students are defined as one who enrolls in 5-8 credits per term.
* Additional fees may be charged
2023-2024 Cost Of Attendance (COA)
COA is the amount it will cost a student to go to school. Most two-year and four-year colleges calculate their COA to show the total cost for the school year (for instance, for the fall, winter, and spring terms).
If you're attending school at least half time, the COA is the estimate of
books, course materials, supplies, and equipment;
cost of housing and food (or living expenses);
transportation expenses;
loan fees (excluding any loan fees for non-federal student loans);
miscellaneous expenses (including a reasonable amount for the documented cost of a personal computer);
allowance for childcare or other dependent care;
costs related to a disability;
costs of obtaining a license, certification, or a first professional credential; and
reasonable costs for eligible study abroad programs.
Cost of Fees and Supplies
Cost of Fees and Supplies is different for each program depending upon many factors such as the books, supplies, equipment, scrubs, etc. that are provided to each student and the level of instructional support required, including off-site clinical experiences, degree of on-site laboratory experiences, and other factors.
Course Fees
Some courses have additional fees associated which cover the cost of supplies, books, equipment, and other tools.
Technology Fee
A Technology Fee ($50 per credit) is assessed for programs to cover the costs of maintaining P.I.T.'s online learning platform, classroom laboratory equipment, software, and related technology.
Transcript Fee
There is no charge for the first two P.I.T. transcripts requested by the student. Any additional transcripts are $3.00 each.
Special Fees
Return Check Fee*
$35.00
If a check returned by the bank this fee will be assed.
Stop Payment Fee*
$35.00
If a student requests a replacement check for one that is lost or stolen, this fee will be assessed.
Transfer Credit Fee
$150.00
Credits may be awarded based on the evaluation of transcripts for which a student may have earned credit at a prior institution. A flat fee of $150 is assessed for each evaluation.
Assessment of Experiential Learning Fee
$150.00 plus $25.00/credit
College credits may be awarded for courses from non-accredited institutions and/or experiential learning experiences. See the Admissions Office for assistance with this process. Fees for assessment activities are $150 plus $25 per credit.
Test-out Exam Fee
The rate of 1 credit hour
Students may elect, based on prior experience or learning to test-out of certain classes. This fee is assessed regardless of the exam outcome to cover the cost of faculty preparation and exam time.
Audit Course Fee
The rate of 1 credit hour
If students wish to take a course for enrichment purposes, they may choose to audit the course. An audited course is listed on the student's transcript with the code of "AU," which indicates no grade or credit for the course.
Graduation Fee
$100.00
A charge of $100 will be assessed each graduating student to cover the costs of caps and gowns, producing his or her degree or certificate, and for other direct commencement expenses.
*Non-Refundable
Textbooks and Supplies
The College provides students with the option for obtaining the required textbooks each term – to purchase the textbooks through any bookseller of the students' choice. For some programs and courses, the college may supply books online resources.
You can obtain a list of suggested retailers from your Student Support Service Counselor. You can also see your Student Support Service Counselor about our book exchange bulletin board.
Students whose tuition and fee charges are completely funded with Title IV aid in excess of all required and necessary charges will, if desired, be issued a check to pay for their books.
If a student qualifies and the student's funding includes a book allowance, the student may request a stipend up to the amount of the scheduled book allowance to purchase the required textbooks. The stipend request must be made through the Business Office of P.I.T. where a check will be scheduled for disbursement to the student. If a student meets applicable requirements at least ten (10) days before the start of the payment period, then the stipend will be available no later than the seventh (7th) day of the payment period. All other requests will be disbursed via mail service to the student within fourteen (14) days of the request – provided the required funding has been received by the College.