Welcome to P.I.T. Virtual Campus
In light of the COVID-19 virus, P.I.T. has gone virtual.
P.I.T is open for eClass!
As you are aware, all classes for the remainder of the Winter 2020 Term have moved to an online format. Additionally the Spring 2020 Term, which begins April 13, will feature all online only classes.
P.I.T recognizes that some students may not have access to consistent, reliable internet in their homes. It is our goal as your college to ensure that you are able to continue your education with during the COVID-19 pandemic.  Below is the most up-to-date information that we have for resources to help you continue your education online.  As this information changes, we will be sure to make updates!
If you need any additional assistance, please reach out!
Thank you,
Kamira Evans
Director, Student Affairs
Not sure who to contact, or how to contact someone?
E-Mail: info@pit.edu
Call: 610-892-1500
(If no one answers, please leave a message)
Comcast
Comcast is offering 60 days of free service to new Internet Essentials customers and free remote installation. It's also increasing service speeds for new and existing customers. Apply for service.
Additionally, as of March 25, 2020 until further notice, all Xfinity WiFi Public Hotspots are now open to everyone on the "xfinitywifi" SSID. Public hotspots can be found in small/medium businesses and outdoors in commercial areas. Non-Xfinity subscribers need to accept Terms and Conditions to access the network and repeat when requested to continue to receive free unlimited access.
You may be able to access a Public Hotspot from inside your home.
VERIZON
Verizon announced two months of waived Internet and voice service charges for current Lifeline customers. The company also has new, affordable Internet options for low-income households.
PCs for people
PCs for People offers low-cost Wi-Fi hotspots and computers to qualifying households. They now accept Pell Grant documentation for eligibility for higher education students impacted by COVID related school closures.
If you are a  City of Chester resident who is in need of food services, below is a list of food pantries in the City.  Please call ahead to verify dates and times, and of course, continue to practice social distancing.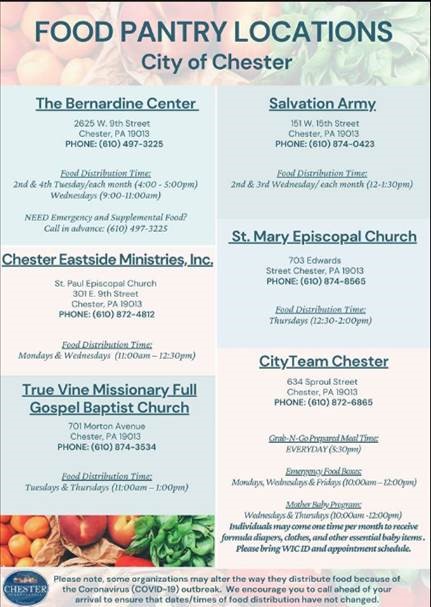 The Collective Success Network (www.collectivesuccess.org) has compiled a list of resources for College Students who are now learning from home!  The list of resources is attached.
CSN also has financial assistance opportunities! If you are in urgent need of funds to buy food and other essential supplies, please request help from CSN by visiting https://bit.ly/CSN-FinHelp 
This assistance is open to ALL Philadelphia area College Students.  You do need to self-apply for any assistance.  Funds are very limited.