B.S. Business Administration
This is a NEW DEGREE with courses beginning April of 2023!
The new Bachelor of Science in Business Administration is a flexible, career-oriented degree that allows students to pursue an A.S. in Business as part of the degree, and to take stackable certificates to enhance professional development and workforce readiness/career advancement. The degree program consists of a general education core, a business core, and stand-alone stackable certificates in Supply Chain and Operations Management paired with Applied Project Management; Digital Marketing paired with Innovation and Entrepreneurship. A fifth concentration, Healthcare Administration, allows students to complete a business administration degree program that has a healthcare emphasis—expanding their employability into the healthcare industry. The goal of this program is to provide committed learners with a quality, collegiate and career-enhancing education in a supportive environment that promotes personal growth and prepares graduates for successful careers.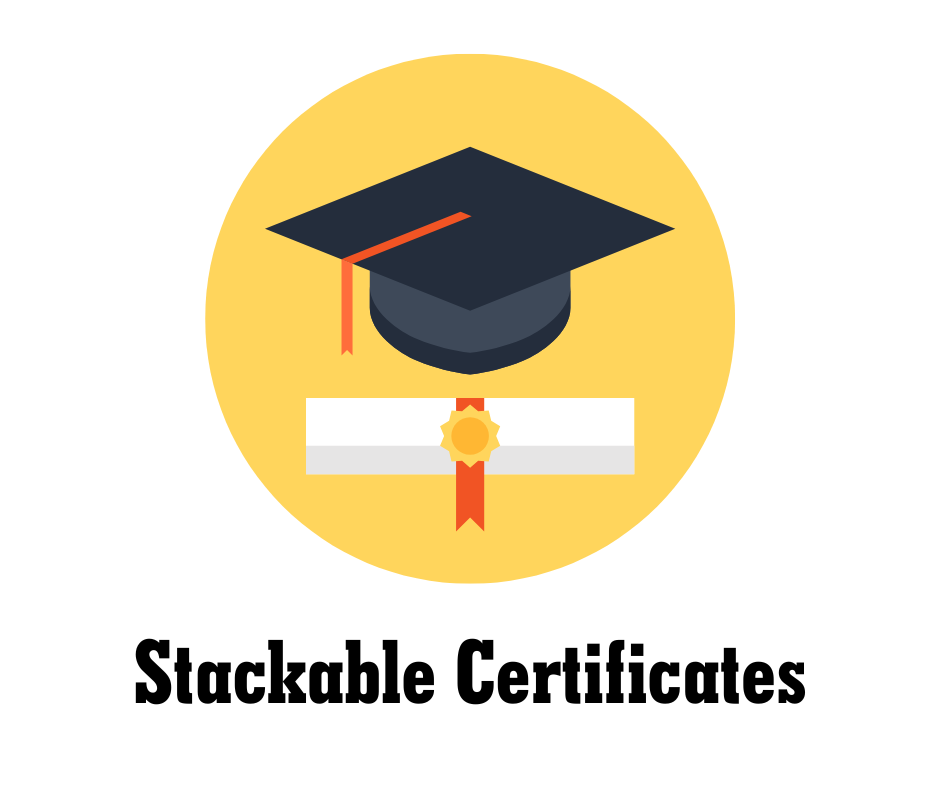 Supply Chain and Operations Management
This certificate is targeted to persons in the fields of transportation, storage, and distribution, or as logisticians. Supply chain and operations professionals manage the flow of goods, services, and information both within and across organizations, ensuring that products get made, services are provided, and customers are satisfied. This certificate program focuses on sustainability, efficient use of resources, project management, and managing risk. Potential job growth is 14% through 2026.
Applied Project Management
This certificate is targeted to students/employees who wish to acquire the tools and skills to initiative, plan, execute, monitor, and close projects. Examples of career areas include management analysts, project management specialists, logisticians. Program topics include design thinking, project quality management, and project time management. Potential job growth is 7-8% through 2026.
Digital Marketing
This certificate is designed for students and employees seeking to develop skills in the digital marketing arena. Digital marketing refers to the use of digital channels to market products and services to reach consumers. This type of marketing involves the use of websites, mobile devices, social media, search engines, and other similar channels. Potential career paths include market research analysts and market specialists, marketing managers, web developers and interface designers. Projected job growth is 7-8% through 2026.
Innovation and Entrepreneurship
This certificate is targeted to the student who wishes to pursue a career leading and managing change and growth. The courses in the certificate program teach you essential skills and effective strategies for leading innovation in organizations – and for starting new ones. Typical occupations include business operations specialists, general and operations managers, project management specialists, and entrepreneurs. Projected job growth is 25% through 2026.
Healthcare Administration
This certificate is targeted to students and current employees within the healthcare system who wish to pursue a career in the administrative side of healthcare. Topics include law and ethics, finance, healthcare informatics, and healthcare management. Projected job growth is 15% through 2026.
Pennsylvania Institute of Technology is an Educational Member of the International Accreditation Council for Business Education (IACBE), An Educational Member of the IACBE is an academic business unit that has met the IACBE's requirements for membership and has affirmed its commitment to excellence in business education. For more information on Educational Membership and the IACBE, please visit the IACBE website: www.iacbe.org

Upon successful completion of this program, graduates should be able to:
Demonstrate increased leadership skills.
Develop a strong knowledge of core business concepts.
Apply foundational concepts to business scenarios.
Demonstrate enhanced collaboration and team-building skills.
Analyze case studies and create rational courses of action.