Cannabis Business
With fully-online classes available, this program aims to provide committed learners with quality, collegiate, and career-enhancing Cannabis-based business education in a supportive environment that promotes personal growth and prepares graduates for successful careers and college transfer opportunities.
Cannabis Business students will focus on a combination of pathways to determine the most promising path for their careers. Students will be exposed to all levels of vertically integrated business models through a careful examination of the science, botany, marketing, and accounting aspects of a cannabis business.
As medicinal and recreational cannabis business opportunities continue to expand, employment opportunities are emerging and growing by leaps and bounds. This program prepares graduates to start their own business, work for a dispensary or grow operation, or transfer credits to earn a Bachelor's Degree!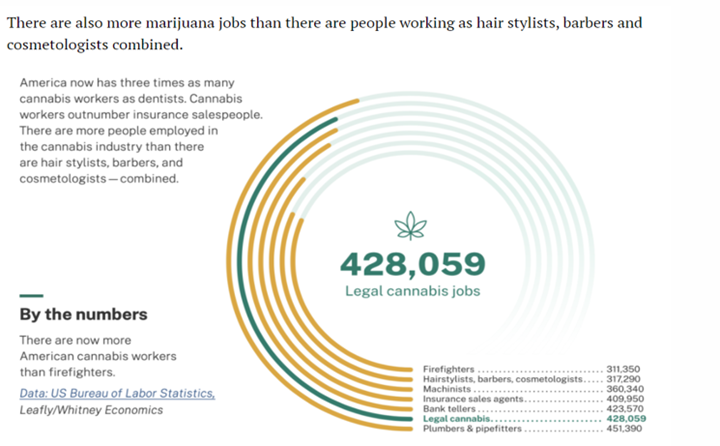 The national cannabis sales figures for 2021 ($25 billion) is just about 25 percent of the industry's potential. It is projected that cannabis revenue is expected to almost double by 2025, and even then it would be less than half of the total potential market.
In 2021, America's legal cannabis industry created more than 280 new jobs every day. A person was hired for a marijuana-related job every two minutes of the work day, on average.
As featured in Leafly's best college degrees for Cannabis!
Read more here: https://www.leafly.com/news/industry/best-cannabis-college-degrees-and-certifications
Have a Question?
Upon successful completion of the Cannabis Business program, graduates should be able to:
Interpret the history of medical cannabis in Pennsylvania, New Jersey, and Delaware compared to the USA as well as recognize the implications of medical legalization and its impact on healthcare.
Differentiate the benefits of medical marijuana for different health issues.
Explore and understand the legal challenges of working in the cannabis industry or consuming cannabis-based health products.
Analyze and assess the research on medicinal effects of marijuana products.
Compare and contrast other alternative health treatments that can be used in conjunction with medical marijuana.
Evaluate the commercial hemp market for potential business opportunities.
Recognize and apply the tenets of professional ethical responsibility.
Identify and distinguish the major historical and political influences of cannabis use.
Analyze marketing techniques to determine the most appropriate strategies.
Employ the use of accounting software and reports within the context of a cannabis business environment.
Develop a clear understanding of the horticulture and botany associated with cannabis.
Lou Giannotti, RPH
Director of Cannabis Studies
---
Programs